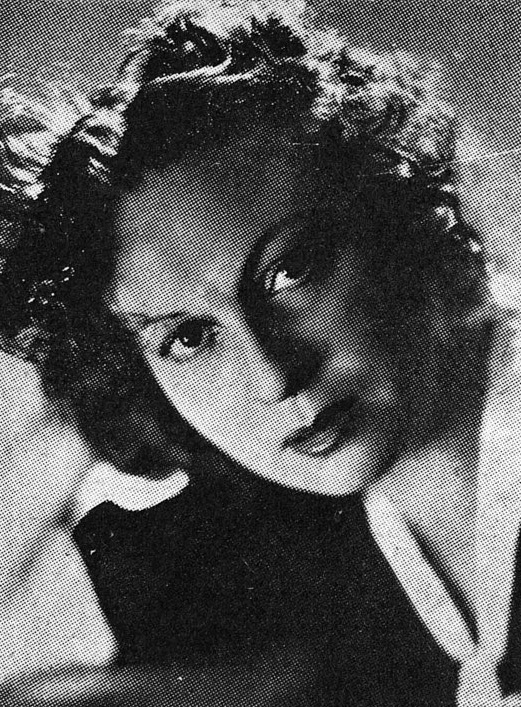 From"Cineguida 1949"
Olga Solbelli
was one of the great character actresses of Italian cinema. In a career that spanned from the mid 1930s and until the late 1960s, she appeared in more than 80 films, including everything from light-hearted comedies and melodramas to peplums and horror films. Equally versatile in the types of roles she portrayed, Olga could switch with ease between playing simple working class women and snobbish upper-class ladies. Her specialites, however, were playing tormented and long-suffering mothers, or cruel and malicious villainesses, both of which she always did with great bravura.
Born as Anna Olga Solbelli in Verghereto on 11 May 1898, her acting career began in the theater, where she achieved much success in the 1920s and 30s. She worked in the company of Pietro Meda, whom she married in 1928, but also several others.
Olga made her film debut at the age of 38 with a small role in the crime film
L'anonima Roylott
(1936) and quickly became a much in-demand character actress, working steadily in film throughout the Fascist era. Her most famous roles from this era are in
Via delle Cinque Lune
(1942) as a cruel but sensual woman who seduces her stepdaughter's boyfriend, and as the third sister in the comedy
Sorelle Materassi
(1944).
During the post-war years, Olga's career continued to blossom and she appeared in a great number of melodramas, comedies and historical dramas, with high points being her portrayals of Catherine the Great in
La figlia del capitano
(1947) and particularly her dramatic interpretation of the long-suffering mother of real-life Italian irredentist Nazario Sauro in the biographical drama
Fratelli d'Italia
(1952).
In the late 1950s, Olga began to appear regularly in the fotoromanzi published in the weekly magazines Sogno, Luna Park and Cine Illustrato, and as a result, her film roles became somewhat less regular. In the 1960s, she was seen mostly in various peplum adventures, with her last great role being as the cruel and domineering mother of Franco Nero in the horror film
Il terzo occhio
(1966).
Olga retired from acting in 1967 and lived quietly outside the limelight until her death at age 78 on 8 September 1976 in Bologna. Her career is well documented by various sources, so there are probably not too many undocumented roles to be discovered. Her uncredited role in
Erode il grande
(1959) was not listed neither at ANICA nor IMDb, though, so it's possible there might be a few more uncredited roles that have not yet been discovered.
Additional biographical note from Cineguida 1949
Height: 1,68.
Weight: 55 kg.
Instruction: diploma in accounting.
She attended acting and dancing school.
Languages: French.
Dubbing, Radio, Prose theater.
She lived in Roma, in via Monfalcone, 3.
Source for biographical informations: "Dizionario del cinema italiano: Le attrici" (2003) by Enrico Lancia and Roberto Poppi.
Filmography
1936
L'anonima Roylott .... Anna (credited)

1939
Cose dell'altro mondo …. Rosalie (credited -

role unconfirmed

)

1940
La peccatrice …. Carmela Bandelli (credited)
Una romantica avventura …. Widow Cavara (credited)

1941
È caduta una donna …. Fashion house directress (credited)
Ore 9: Lezione di chimica …. Signorina Bottelli (credited)

1942
Odessa in fiamme …. Luba (credited)
Via delle Cinque Lune …. Sora Teta (credited)

1943
Apparizione …. Aunt Lavinia (credited)
Calafuria …. Clara (credited)
Campo de' Fiori …. Olga (credited)
L'ultima carrozzella …. Boarding house landlady (credited)
La statua vivente …. Rita's friend (credited)

1944
La locandiera …. Contessa di Albafiorita (credited)
Sorelle Materassi …. Giselda Materassi (credited)

1945
Il ratto delle sabine …. Matilde (credited)

1946
Ogni giorno è domenica …. Marta (credited)
Senza famiglia …. The governess (credited)

1947
L'onorevole Angelina …. One of Angelina's cell-mates (uncredited)
La figlia del capitano …. Empress Catherine the Great (credited)
Sperduti nel buio …. Emilia (credited)

1949
Il lupo della Sila …. Anna Campolo (credited)
L'invasore …. The Marchesa (poster credit)

1950
Amori e veleni …. Contessa Baglioni (credited)
Domani è troppo tardi …. Signora Giusti (credited)
Faddja - La legge della vendetta …. Annarita's mother (credited)

1951
Domani è un altro giorno …. Giulia's mother (credited)
I figli di nessuno …. Mother superior (credited)

1952
Don Camillo …. Gina's mother (credited)
Fratelli d'Italia .... Anna Sauro (credited)

1953
Il cavaliere di Maison Rouge …. Madame Tusson (credited)
Il mercante di Venezia …. Bianca (poster credit)
La nave delle donne maledette …. Anita (credited)
La pattuglia dell'Amba Alagi …. Turi's mother (credited)
Siamo tutti inquilini …. Attorney Sassi's wife (uncredited)

1954
Gli amori di Manon Lescaut …. Prison nun (credited)
Il prigioniero del re …. Queen Anne of Austria (credited -

role unconfirmed

)
La corda d'acciaio …. Edvige (poster credit -

role unconfirmed

)
Orient Express …. Postmistress (uncredited)
Teodora …. Egina (credited)

1955
Il piccolo vetraio …. Josiane (credited)
L'angelo bianco …. Mother superior (credited)
Ricordami …. Signora Barra (poster credit -

role unconfirmed

)
Totò all'inferno .... Cleopatra's mother (credited)

1956
Sangue di zingara …. Donato's mother (poster credit -

role unconfirmed

)

1957
A vent'anni è sempre festa …. Rita's mother (poster credit -

role unconfirmed

)
I misteri di Parigi …. Tavern proprietress (credited)
Malafemmena …. Procuress (credited)
Solo Dio mi fermerà … Don Salvatore's mother (credited)

1958
Festival della famiglia Gurgià (TV movie) …. Maria Gurgià (credited in Radiocorriere TV listing)
Il vento notturno (TV movie) …. Candida (credited in Radiocorriere TV listing)

1959

Erode il grande

…. Mother of the man being crucified (uncredited)
I Reali di Francia …. Fazia (credited)
La notte del grande assalto …. Caterina Sforza (credited)

1960

Gli amori di Ercole

…. Lachesi, the sorceress (credited)
Il mulino delle donne di pietra …. Selma (credited)

1961
Scano Boa …. One of the fishermen's wives (credited)

1964
Ercole l'invincibile …. The prophetess (credited as "Sand Beanty")

1966
1000 dollari sul nero …. Pleading townswoman (credited)
Il terzo occhio …. Mino's mother (credited as "Olga Sunbeauty")

1967
Assalto al tesoro di Stato …. Madame Angot (credited)
Una rete piena di sabbia ….

role?

(poster credit)

1968
Quando la pelle brucia ….

role?

(poster credit)
Titles to check
Il fu Mattia Pascal (1937) ANICA as Silvia Caporale
Assenza ingiustificata (1939) - ANICA as Professoressa cattiva
L'ispettore Vargas (1940) - ANICA as Signora Drowe
I due foscari (1942) - ANICA as Moglie di Faredano
I quattro di Bir El Gobi (1942) - IMDb says this production was interrupted by the war and never completed
La principessa del sogno (1942) - ANICA as Clotilde, direttrice orfanotrofio
Le signorine della villa accanto (1942) - ANICA as Proprietaria della villa
Paura d'amare (1942) - ANICA as Padrona di casa
Grazia (1943) - IMDb lists this as an uncompleted film
La storia di una capinera (1943) - ANICA
La buona fortuna (1946) - ANICA as Zia Clementina
Ritorno al nido (1946) - ANICA as Virginia, la governante
L'ultimo sogno (1947) - ANICA
Fiori d'arancio (1947) - ANICA
Fuga nella tempesta (1948) - ANICA
Arrivederci papà! (1948) - ANICA
La scogliera del peccato (1950) - ANICA as Maria
Gli amanti di Ravello (1951) - ANICA as Governante
Core 'ngrato (1951) - ANICA as Eugenia
Strano appuntamento (1951) - ANICA
L'uomo della mia vita (1952) - ANICA as Emma
Mamma perdonami (1953) - ANICA
La barriera della legge (1954) - ANICA as Padrona pensione
Il canto dell'emigrante (1956) - ANICA
Il monaco di Monza (1963) - ANICA
Eroe vagabondo (1966) - ANICA