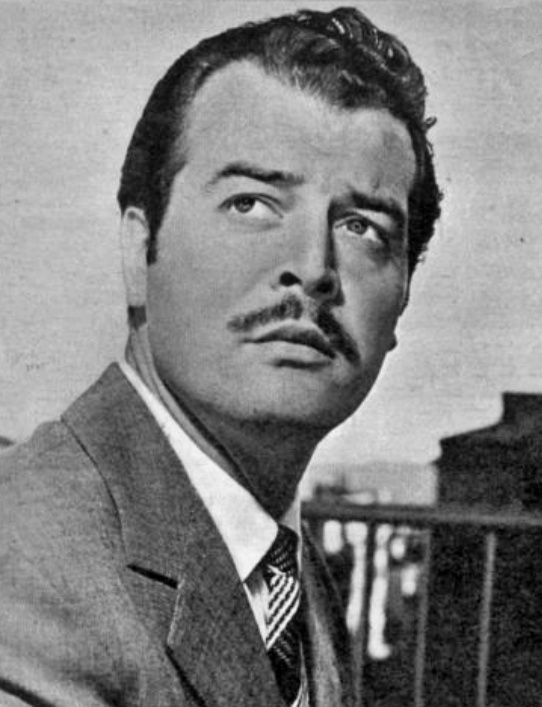 Bruno Tocci in a fotoromanzo publicity shot
Bruno Tocci
was a leading actor in fotoromanzi who also had a parallel career as a small-part actor in Italian films. He was active from the start of the 1950's into the 1980's.
He was born on April 22nd
[1]
or 23rd
[2]
, 1923 in the Testaccio, a district of Rome.
Around 1949 he was 1.80 m. tall, weighed 80 kg., with brown hair and light-blue eyes. He attended a ballet school and he had knowledge of English and French
[2]
.
He made his first fotoromanzo appearance in 1949 and made his film debut the following year. While his film career is fairly patchy and always in small supporting roles, his work in fotoromanzi was far more prolific and varied, with more than 300 appearances in roles of varying sizes, his last coming in 1992.
His fotoromanzi-topilio profile says his final role was "just before his death", from which we can surmise that he must have died around 1993. No other websites give any details of his death (or birth).
He lived in Roma, in via Giovanni Amendola, 24-a
[2]
.
1. The bulk of Bruno's biographical details come from his profile on the fotoromanzi-topilio.it website.
2. "Cineguida 1949" - Dante Lazzaro.
Bruno Tocci in "Cineguida 1949"
Filmography
---
1951
Messalina .... Spectator at the arena (uncredited)

1959
Avventura a Capri .... Organiser of the fashion show (uncredited)

1960
I baccanali di Tiberio .... Centurion (credited)
Il principe fusto .... Waiter at the cocktail party (credited)
Jovanka e le altre .... Partisan sent on mission (uncredited)
Robin Hood e i pirati .... One of Robin's men in prison (credited)

1961
Fra' Manisco cerca guai... .... Friend of Giulio (credited)
I magnifici tre .... One of Jose's men (credited)
I masnadieri ....

role?

(uncredited)
Il trionfo di Maciste .... Tabor (credited)
Pugni pupe e marinai .... Gangster (credited)
Romolo e Remo .... Pristino (credited)
Spade senza bandiera .... (credited, but not found)

1962
Giulio Cesare il conquistatore delle Gallie .... Mark Anthony (

credited?

)
I motorizzati .... Truck driver (uncredited)
I tre nemici .... Kreutz's assistant (uncredited)

1963
Brenno il nemico di Roma .... Centurion (uncredited)

1966
Missione Apocalisse .... Sharif (credited)

1972
Avanti! .... Airport policeman (uncredited)

1974
L'anticristo .... Man accompanying possessed man (

credited?

)

1975
Corruzione al palazzo di giustizia .... Arsonist (credited)
Mondo candido .... Al Capone (uncredited)
Una vergine in famiglia .... Colonel Aristide Giannelli (credited)

1976
Campagnola bella ....

role?

(poster credit)

1982
Monsignor .... Priest delivering message (uncredited)

1983
Quer pasticciaccio brutto de via Merulana (TV mini-series, all episodes) .... Biondone (credited)
Titles to check
---
Vendetta di zingara aka Sangue di nomadi (1950) ANICA
Maurizio, Peppino e le indossatrici (1961) ANICA as Sciatore
Una domenica d'estate (1962) ANICA
F.B.I. chiama Istanbul (1964) ANICA for screenplay writer, may not appear
Assalto al centro nucleare (1967) ANICA as Operaio capo della commissione interna
Società a responsabilità molto limitata (1973) ANICA as Toppa. I didn't find him, but my copy is poor quality so I may have missed him
No Bruno!
---
Films where Bruno is credited with appearing somewhere online, but cannot be found
Faccia da schiaffi (1969) ANICA. Not found
Milano calibro 9 (1972) It is the similarly-named actor Bruno Bertocci who is credited and (presumably) appears