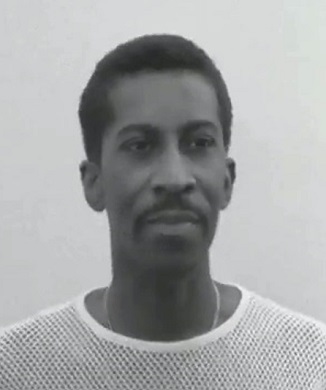 Llew Trotman in "Tokende!" (1966)
Llew Trotman
was a Barbadian musician who spent the majority of his career in Italy, where he gained much success during the 1960s as one of the original members of the popular gospel band The Folkstudio Singers. Like a lot of other black musicians based in Rome, Llew also had a second career playing small uncredited roles in films.
He was born as Llewellyn Chesterfield Trotman on 17 March 1927 in Bridgetown, Barbados
[1]
. Little is known about Llew's early career except that he lived for several years in England, where he organized a number of music shows
[2]
. At some point he decided to try his luck as a musician in Italy and he can be spotted playing double bass or drums in various nightclub scenes in Italian films from the late 1950s and early 1960s.
Llew found his greatest success in the mid 1960s as a bass, bongo and tambourine player in the gospel band The Folkstudio Singers, whose other members were brothers Eddie and Jesse Hawkins, Billy Ward and Archie Savage. They released a number of popular records and did various musical shows and television appearances. In addition, all five members would make small appearances in films - sometimes in musician roles, but also regular bit or generico parts that required black actors.
Llew eventually left Italy and moved to the Netherlands when he was 50 years old
[3]
, which would have been in 1977. He spent the rest of his life there, raising a family and teaching music. He died on 15 June 2016 in Amsterdam, aged 89
[1]
.
Llew's work outside of The Folkstudio Singers looks to be totally unknown and he doesn't even have an IMDb entry, so there are surely many, many more roles for him just waiting to be found.
"Rapsodia negra per Nazareth" (Walter Mauro), article about The Folkstudio Singers in Il Dramma n. 5 (May 1970).
Filmography
1959
Il moralista .... Double bass player in the nightclub band (uncredited)

1960
Genitori in blue-jeans .... Double bass player in the nightclub band (uncredited)

1961
Fantasmi a Roma .... Double bass player in the nightclub band (uncredited)
La ragazza sotto il lenzuolo .... Drummer in Maria Celeste's nightclub act (uncredited)

1967
L'uomo, l'orgoglio, la vendetta .... Servant (uncredited)
Tutto Totò (TV series) - ep. 6: "Totò Ciak!" .... One of Siamese's henchmen (uncredited)

1968
La pecora nera .... Bongo drummer at the embassy party (uncredited)

1969
Italiani! È severamente proibito servirsi della toilette durante le fermate .... Himself - Member of the Folkstudio Singers (credited as "Folkstudio Singers")
Additional credits
Tokende! (Documentary short, 1966) - Llew appears as himself together with the rest of The Folkstudio Singers.
La lotta dell'uomo per la sua sopravvivenza (TV series, 1970). Llew and the rest of the Folkstudio Singers perform the title song, "The Fight for Survival", together with Shirley Bassey.
Fotoromanzi
Albi del Firmamento n. 7: "Il sospetto" (July 1970) - credited as "Lew Trotman"