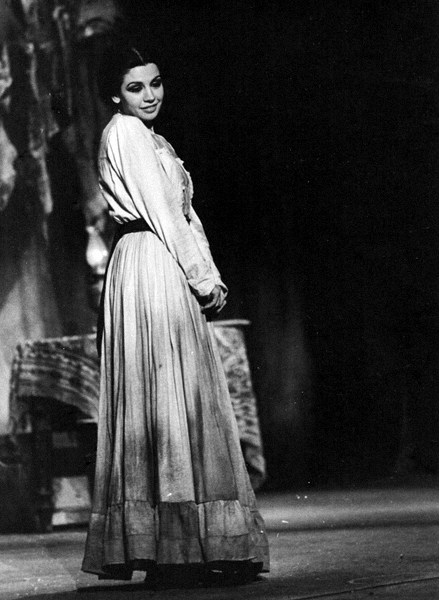 In the early Seventies in the theatral piece "L'altalena" as Agathina, at Teatro Stabile in Catania
Born in Palermo in the early fifties,
Ileana Rigano
(1,63 cm) was a very prolific theater actress, instead Cinema and TV were just a small phase of her acting career. She worked above all at the "Teatro Stabile di Catania" with Turi Ferro and Ida Carrara; her best performances were in the pièces "Pensaci Giacomino", "Il berretto a sonagli" and "Don Giovanni in Sicilia".
She left on June the 1st, 2020 at Viagrande (Catania). She leaves her husband Roberto Jansen and two children (of which Francesca, the curator of her
Facebook page
).
Filmography
1969
Colpo rovente .... Milli (credited)
Puro siccome un angelo papà mi fece monaco... di Monza .... Villager (credited)
Un bellissimo novembre .... Rosaria, the maid (credited as "Ileana Riganò")
Scacco alla regina .... Iris (credited as "Ileana Riganò")

1970
La prima notte del Dottor Danieli, industriale, col complesso del... giocattolo .... Woman at the telephone (credited)
Un caso di coscienza .... Palmira (credited as "Ileana Riganò")

1971
È tornato Sabata... hai chiuso un'altra volta! .... Saloon girl (credited as "Ilenna Rigano")
Noi donne siamo fatte così - segment "Il mondo cammina" .... Marina, house servant of Alberta (credited)

1972
All'ultimo minuto (TV series) - ep. 8: "Il rapido delle 13.30" (credited) .... Mariolina
Storia di fifa e di coltello - Er seguito d'er più (credited) .... Silvana

1974
I figli di Zanna Bianca .... Luisa Arrighi (credited)
Manone il ladrone .... Prostitute (poster credit -

role unconfirmed

)
Paolo il freddo .... Lucia (credited)

1994
Il giudice ragazzino .... Wife of Migliore (credited)

2001
Il commissario Montalbano (TV Series) - season 1, ep.: "Tocco d'artista" .... Emma Morpurgo (credited)

2004
Sara May .... Adult Dora (credited)

2007
Il capo dei capi (TV Mini-series) .... Biagio's mother (credited)

2008
Agrodolce (TV Series) .... Agata Messina (credited)

2016
Il commissario Montalbano (TV Series, 2016) - ep.: "Una faccenda delicata" .... Maria Castellino (credited)
Filmography to check
I parenti tutti (Short, 1967)
Il sole è di tutti (1969) .... Aida
Non parlo più (TV movie, 1995) (source: agenziaisabellagullo.net)
I fetentoni (1999) (sources: archivio del cinema Italiano) (citwf.com)
Gli astronomi (2003) (source: agenziaisabellagullo.net)
Il bambino della domenica (TV mini-serie, 2008) (agenziaisabellagullo.net)
Le sorelle macaluso (2018) as Pinuccia anziana (sources: cineuropa.org) (cinematografo.it)
Picciridda (2019)! .... zia Pina (source: Imdb)