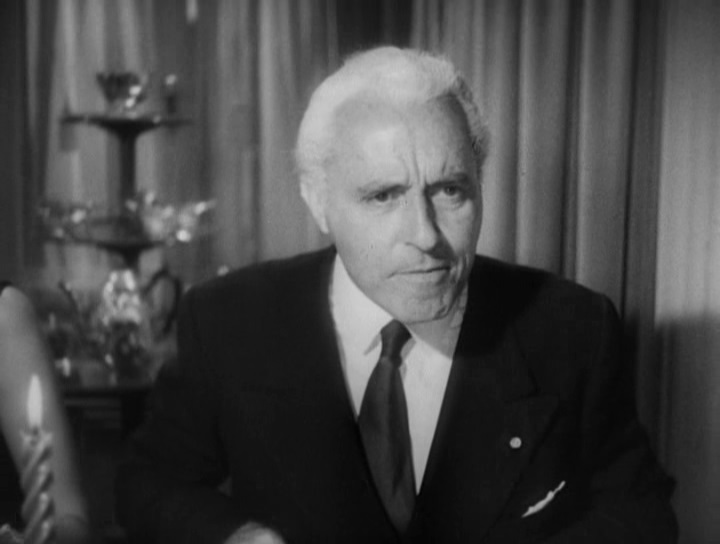 Rodolfo Lodi in "Europa '51" (1952)
A ubiquitous presence in Italian cinema of 1950s, 60s and 70s,
Rodolfo Lodi
pops up pretty much everywhere. White-haired, elegant and with an almost regal air to him, he typically appeared as some kind of aristrocrat or authority figure in everything from the comedies of Totò and Franco & Ciccio to several Hollywood productions shot in Italy. He also appeared in more serious films by important directors such as Roberto Rossellini, Jean Renoir and Bernardo Bertolucci, and was even a regular character actor in the fotoromanzi published in magazines such as
Sogno
(uncredited),
Luna Park
(uncredited),
Cine Illustrato
(uncredited) and
Polvere di Stelle
(uncredited).
Rarely credited, Rodolfo was nevertheless entrusted with many speaking roles, and by the 1970s, he was being awarded some more significant credited roles. Indeed, his two most famous and memorable roles are the ones which he interpreted towards the very end of his long career: as the ill-fated archbishop in the comedy classic
Il secondo tragico Fantozzi
(1976), and as Jill Clayburgh's old opera maestro in Bertolucci's
La luna
(1979).
Filmography
---
1952
Altri tempi - segment "Una selezione di canzoni del tempo" .... Officer at the café (uncredited)
Camicie rosse (Anita Garibaldi) .... Colonel Forbes (credited as "R. Lodi")
Europa '51 .... Mr. Orange (uncredited)
Fratelli d'Italia .... Italian naval commander (uncredited)
Le avventure di Mandrin .... Sergeant (credited)
Totò e le donne .... Marriage officiant (uncredited)

1953
Fermi tutti... arrivo io! .... Hotel guest (uncredited)
La voce del silenzio .... A penitent (uncredited)
The Man From Cairo / Dramma nella Kasbah .... Nightclub customer (uncredited)

1954
Attila, il flagello di Dio .... Priest (uncredited)
La schiava del peccato .... Engineer visiting the factory (uncredited)
Tempi nostri - segment "Scena all'aperto" .... Extra at Cinecittà (uncredited)
The Barefoot Contessa .... Nightclub client (uncredited)
Un giorno in pretura .... Excellency (uncredited)

1955
L'ultimo amante .... Casino player (uncredited)

1956
Elena et les hommes .... General (credited)
Il cavaliere dalla spada nera .... Gaspare (credited)
Le schiave di Cartagine .... Man with Fausto Domizio at the banquet (uncredited)
Mio figlio Nerone .... Senator (uncredited)
Totò lascia o raddoppio? .... Nightclub client (uncredited)
Totò, Peppino e i fuorilegge .... Tabarin client (uncredited)
War and Peace .... Russian officer (uncredited)

1957
C'è un sentiero nel cielo .... Party guest (uncredited)
I fidanzati della morte .... Associate of Parisi (uncredited)
La ragazza del Palio .... Man in restaurant (uncredited)
Serenate per 16 bionde .... Audience member at music show (uncredited)
Totò, Vittorio e la dottoressa .... Man in the waiting room (uncredited)

1958
La zia d'America va a sciare .... Man hotel nightclub (uncredited)
Totò nella luna .... Officer at the Pentagon (uncredited)

1959
Annibale .... President of the Senate (uncredited)
Il padrone delle ferriere .... Huntsman (uncredited)
Non perdiamo la testa .... Party guest (uncredited)

1960
Gastone .... An admirer of Nannina (uncredited)
Genitori in blue jeans .... Customer dancing in nightclub (uncredited)
Il mattatore .... Nightclub client (uncredited)

1961
I fratelli corsi .... Party guest (uncredited)
Il conquistatore di Corinto .... Physician (uncredited)
La vendetta di Ursus .... Courtier (uncredited)
Romolo e Remo .... Sabinean pontiff (uncredited)

1962
L'arciere delle mille e una notte .... Physician (uncredited)

1963
Gli onorevoli .... Guest at Braschi's house (uncredited)
Il fornaretto di Venezia .... Doge of Venice (uncredited)
Il giorno più corto .... Judge (uncredited)
Rocambole .... The president's trusted man (uncredited)
The Cardinal .... Priest in the Vatican (uncredited)

1964
00-2 agenti segretissimi .... Admiral Baker (uncredited)
Anthar l'invincibile .... King Sandor (uncredited)
Queste pazze pazze donne - segment "Pochi ma buoni" .... Man at moralist convention (uncredited)

1965
Il gladiatore che sfidò l'impero .... Senator (uncredited)

1966
I criminali della galassia .... Space Command member (credited as "Rudolph Lodin")
I diafanoidi vengono da Marte .... Scientist (uncredited)

1968
Faustina .... The prince (uncredited)
La pecora nera .... Politician (uncredited)
Sissignore .... Wedding guest (uncredited)
The Shoes of the Fisherman .... Cardinal (uncredited)

1969
Camille 2000 .... Party guest (uncredited)
Colpo di stato .... Bishop (credited)
Nell'anno del signore .... Executioner (uncredited)
The Appointment .... Man at fashion show (uncredited)

1970
Waterloo .... Fouche (uncredited)

1971
È tornato Sabata... hai chiuso un'altra volta! .... Circus judge (uncredited)

1972
Amico, stammi lontano almeno un palmo .... Casino player (uncredited)
Continuavano a chiamarli... Er Più, Er Meno .... The Duke, a party guest (uncredited)
Finalmente le mille e una notte .... Storyteller (uncredited)
Senza famiglia, nullatenenti cercano affetto .... Party guest (uncredited)

1973
Ash Wednesday .... Prince von Essen (credited)
Mi chiamavano Requiescat... ma avevano sbagliato .... Swana's father's old friend (credited)
Storie scellerate .... Sleeping old nobleman (uncredited)
Vogliamo i colonnelli .... Party guest (uncredited)

1974
Daisy Miller .... Mrs. Walker's guest (credited)
Orlando furioso (TV mini-series) .... Olimpia's father (credited)

1975
I baroni .... Party guest (uncredited)
Le orme .... Man at the international conference (uncredited)
Mahogany .... Party guest (uncredited)

1976
A Matter of Time .... Baccarat player (uncredited)
Bestialità .... Tourist (credited)
Il secondo tragico Fantozzi .... The Archbishop (credited)
Spogliamoci così senza pudor - segment "La visita" .... Friend of the Partibon family (uncredited)
Todo modo .... Member of the elite (uncredited)

1977
Doppio delitto .... Prince Prospero Dell'Orso (uncredited)

1979
La luna .... The Maestro (credited)

1980
Inferno .... Old man in the library (credited)
Filmography to check
---
Bella non piangere (1955)