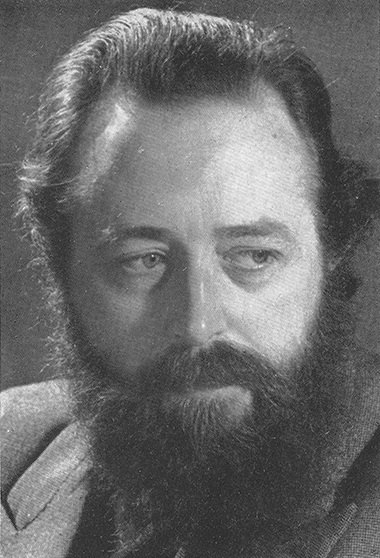 Jean Mollier in the "Cineguida 1955"
Jean Mollier
Jean Mollier (1,74 cm) was a french born character actor, active in Italian films from at least the early 50's to the early 70's, appearing mostly in smaller uncredited roles. He worked in radio and dubbing.
He has a thick black moustache and beard and long (for the 50's) hair, a look which he seems to have kept throughout his known career.
Filmography
1952
Carica eroica .... Russian village priest (uncredited)

1953
Roman Holiday .... Journalist at press reception (uncredited)
Stazione termini .... Member of delegation (uncredited)

1954
Un americano a Roma .... Artistic director (uncredited)

1955
Bravissimo .... Audience member in the theater (uncredited)

1956
Kean: Genio e sregolatezza .... Tavern customer (uncredited)
Montecarlo .... Customer seated in bar (uncredited)

1957
Le notti di Cabiria .... Priest (uncredited)

1958
L'amico del giaguaro .... Monk (uncredited)

1959

Erode il grande

.... Companion of Samir (credited)

1961
L'oro di Roma .... Member of Jewish council (credited)

1963
Mondo cane 2 .... Man at the cocktail wake (uncredited)
Rocambole .... Maxim's patron (uncredited)

1965
Due mafiori contro Goldginger .... "Encapsulated" army officer

1966
After the Fox .... Interpol agent (uncredited)
Io, io, io.... e gli altri .... Restaurant customer (uncredited)

1973
Storie scellerate .... Doctor (uncredited)
The more the Mollier
There are further titles where Mollier is reported to appear by various online resources.
Ho scelto l'amore (1953)
Il ritorno di Don Camillo (1953) - I have looked twice and couldn't find him. (If there is, he is not visible, I confirm. - Emiliano)
Serenata d'amore (1955) - maybe credited, as Nadia's uncle
Ladro lui, ladra lei (1957) - I looked and didn't see him in this one