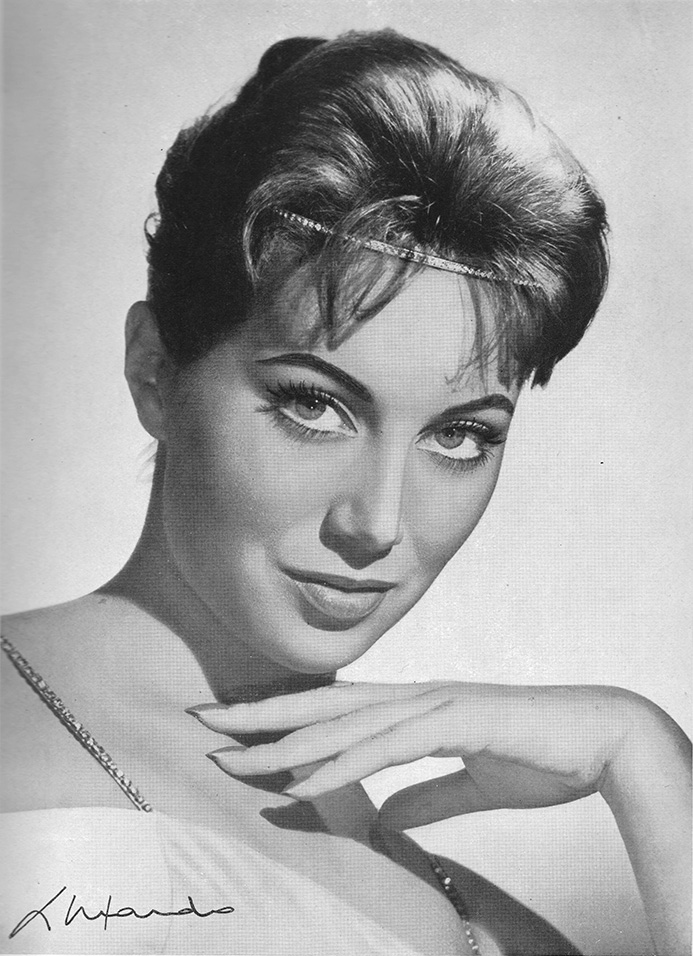 From "Cineguida 1959"
Wandisa Guida
was one of the more successful actresses to graduate from the Centro sperimentale di cinematografia. After gaining some attention as a beauty queen in 1954, she took a year out to study acting, graduating in 1956, after which she worked steadily until she retired from the screen in 1966.
She was born on April 21st 1935 in Trani, Italy and, as far as is known, she is still alive. She married writer and producer Luciano Martino in December 1961, and they had 2 daughters, Lea (born 1963) and Dania (born 1966). They later divorced, but the date of their divorce is unknown.
In the 50's she rose through the ranks working in various genres, before settling in as one of the leading ladies of peplum from the start of the 60's. She finished off her career with appearances in 3 Eurospy movies in the mid-60's. Although the reason for her retirement is unknown, it coincided with the birth of her second child and it seems quite likely she decided to devote herself to being a mother. Furthermore, her disappearance from the silver screen happened during a period when it became seemingly obligatory for Italian actresses to appear naked in films if they wished to continue working, when many other former peplum actresses also disappeared from view.
After a 16-year absence, Wandisa returned to the screen for a one-off appearance in the giallo
Assassinio al cimitero etrusco
(1982) - possibly as a favor to her (ex) husband Luciano Martino, who was the producer, and whose brother Sergio was the director.
I didn't think there could be much to find for Wandisa, but I have been proved wrong with many new TV roles being discovered, largely thanks to Johan, so there could always still be more.
Filmography
1955
L'intrusa .... Party guest (uncredited)

1956
Il serpente a sonagli (TV movie) .... Maddy (credited)
Incatenata dal destino .... Letizia as an adult (poster credit)

1957
C'è un sentiero nel cielo .... Marisa (credited)
Dinanzi a noi il cielo ....

role?

(poster credit)
I colpevoli .... Brunette at the party (credited as Vandisa Guida)
I vampiri .... Laurette Robert (credited)
Il Conte di Matera .... Gisella Bressi (credited as Vandisa Guida)
Jane Eyre (TV mini-series) - episodes: 1, 2, 4 .... Eliza (credited)
La canzone più bella .... Elena Serventi (poster credit)
La trovatella di Pompei .... Luisa (credited)
Quella (TV movie) .... Marghe (credited)
Serenate per 16 bionde .... One of the French college girls (credited)

1958
Carosello di canzoni .... Rossella Apicella (credited)
I prepotenti .... Marcella Martucci (credited)
Mia Italida stin Ellada .... Wandisa Vanzi (credited)
Totò e Marcellino .... The teacher (credited)

1959
Fuente ovejuna (TV movie) .... Lorenza (credited)
I mafiosi .... Odette (credited)
Il cavaliere senza terra ....

role?

(poster credit)
Il padrone delle ferriere .... Athenais Moulinet (credited)
Il vicario di Wakefield (TV Mini-Series) .... Sophia (credited)
Scrollina (TV movie) .... Scrollina (credited)
Tutte bugie (TV movie) .... Bibi (credited)

1960
Cavalcata selvaggia ....

role?

(poster credit)
Giallo club - Invito al poliziesco (TV series) - season 2, episode 3: "Vacanze col gangster" .... Sylvia (credited)
La rivolta degli schiavi .... Agnese (credited)
La vendetta di Ercole .... Alcinoe (credited)
Lo schiavo impazzito (TV movie) .... Nina Salviroli (credited)
Re Lear (TV movie) .... Cordelia (credited)

1961
Capitani di ventura .... Belinda di Tolfa (credited)
Donne brutte (TV movie) .... Jolly (credited)
Drakut il vendicatore .... Irina (credited)
François Villon (TV movie) .... Catherine Mireihl (credited as Vandisa Guida)
Giallo club - Invito al poliziesco (TV series) - season 3, episode 5: "Omicidio cieco" .... Paula (credited)
La vendetta della maschera di ferro .... Cristina (credited)
La vendetta di Ursus .... Sira (credited)

1962
Gli eroi del doppio gioco .... Luciana Riccio (credited)
Il gladiatore di Roma .... Nisa (credited)

1963
Giacobbe ed Esaù .... Judith (poster credit)

1964

Ercole contro Roma

.... Ulpia (credited)
I giganti di Roma .... Livilla (credited)
I tre sergenti del Bengala .... Mary Stark (credited)

Maciste nelle miniere di Re Salomone

.... Fazira (credited)

1965
Le spie uccidono a Beirut .... Elena (credited)

1966
A 077: sfida ai killers .... Terry Coleman (credited)
Charlov e le figlie (TV movie) .... Evlampia (credited)
Operazione Goldman .... Kary (credited as Wandisa Leigh)
Una Cenerentola alla moda (TV movie) .... Nelly (credited)

1967
Il caso Blaireau (TV movie) .... Arabella di Chaville (credited)

1982
Assassinio al cimitero etrusco .... Heather Hall (credited)
Additional credits
Concluso a Venezia il XV Festival. Elette "Miss Italia" e Miss Cinema" (Newsreel) (1954) (credited verbally) .... Herself
Non scherzate coi fiammiferi (TV show, 1957) - 3 episodes .... Co-host with Gianni Agus
Occhio all'etichetta (TV advertisement, 1966) (credited) .... Ursula
More Wandisa!
There are a few more titles to be found where Wandisa should appear. If you have images of her (or her credit) from any of the titles below, you know what to do.
Miss Eurooppaa metsästämässä (1955) Finnish documentary of the 1954 Miss Europe contest
Quando gli angeli piangono (1958)

Images and credit shots are also needed for the following "poster credit" and "listing credit" titles:
Il serpente a sonagli (1956)
Incatenata dal destino (1956)
Dinanzi a noi il cielo (1957)
La canzone più bella (1957)
Non scherzate coi fiammiferi (1957)
Fuente ovejuna (1959)
Il cavaliere senza terra (1959)
Il vicario di Wakefield (1959)
Tutte bugie (1959)
Cavalcata selvaggia (1960)
François Villon (1961)
Giallo club - Invito al poliziesco - season 3, episode 5: "Omicidio cieco" (1961)
Giacobbe ed Esaù (1963)
Charlov e le figlie (1966)
Una Cenerentola alla moda (1966)
Il caso Blaireau (1967)