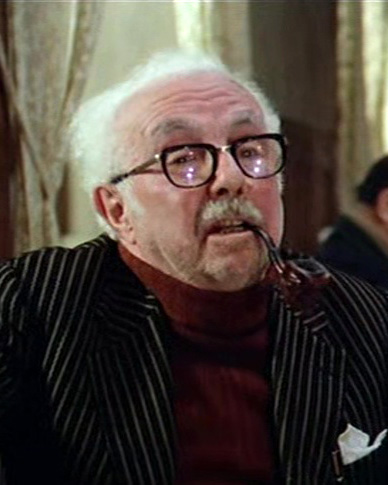 Salvatore Campochiaro in "Primo amore" (1978)
Salvatore Campochiaro
was an actor born on January 23, 1893 in Catania.
[1]
Originally a theater actor, he began to work in films in the 1940s and would go on to play memorable, though often uncredited, little character parts in a large number of comedies from the 1950s and 60s.
He continued to work until the start of the 1980s, and passed away at the age of 90, on November 7, 1983.
[1]
1. "Dizionario del cinema italiano - Gli attori". Vol. 1 A-L - Lancia, Poppi (2003).
Filmography
---
1943
Dagli Appennini alle Ande .... Boatswain (uncredited)

1952
Ergastolo .... Court room usher (uncredited)
La città canora .... Police commissioner (uncredited)
Processo contro ignoti .... Man selling jewelry (uncredited)

1954
Il mostro dell'isola .... Nightclub customer (uncredited)
L'arte di arrangiarsi .... Peppino (uncredited)
La Luciana .... One of the General Inspector's subordinates (uncredited)
Lettera napoletana .... Client of the agency (uncredited)
Questa è la vita - segment: "La patente" .... Clerk (uncredited)

1955
Accadde al penitenziario .... Jailbird (uncredited)
Buonanotte... avvocato! .... Court usher (uncredited)
La moglie è uguale per tutti .... Bus passenger (uncredited)
Scapricciatiello .... Trattoria waiter (uncredited)

1956
Il cavaliere dalla spada nera .... Man arguing in tavern (uncredited)
Mi permette babbo .... Audience member at the opera (uncredited)

1957
Arrivano i dollari .... Nightclub customer (uncredited)

1958
Carosello di canzoni .... Court room messenger (uncredited)
Il marito .... Doorman (uncredited)
Totò e Marcellino .... Lawyer (credited)

1959
Fantasmi e ladri .... Street spectator (uncredited)
Juke Box urli d'amore .... Receptionist (uncredited)
Ragazzi del juke box .... Old man at piano (uncredited)

1960
I baccanali di Tiberio .... Courtier (credited)
I pirati della costa .... Pirate (uncredited)
Il vigile .... Bicycle mechanic (uncredited)
La vendetta dei barbari .... Member of the Emperor's council (uncredited)

1961
I briganti italiani .... Mariantonia's father (uncredited)
I Masnadieri .... Priest (

credited?

)
Il giudizio universale .... Party guest (uncredited)
L'onorata società .... Mafia boss (credited)
La vendetta di Ursus .... Advisor to King Alteo (uncredited)

1962
2 samurai per 100 geishe .... Grinning man on the plane (uncredited)
Dieci italiani per un tedesco (Via Rasella) .... Italian convict on the truck (uncredited)
La cuccagna .... Man with bad breath (uncredited)
La smania addosso .... Assistant judge (credited)
Salvatore Giuliano .... Man in the courtroom (uncredited)
Ursus gladiatore ribelle .... Senator (uncredited)
Zorro alla corte di spagna .... Sancho, the butler (uncredited)

1963
Il comandante .... Cavalier Marchesi, one of the retired men (uncredited)
L'invincibile cavaliere mascherato .... Alvarez (uncredited)
Zorro e i tre moschiettieri .... Execution observer (uncredited)

1964
Due mafiosi nel Far West .... Judge (uncredited)
I tre centurioni .... Mad prisoner (uncredited)
Il magnifico gladiatore .... Old Man who helps Hercules (uncredited)
La fabbrica dei soldi .... Doctor (uncredited)
La vendetta della signora .... Villager (uncredited)
Sansone contro il Corsaro Nero .... Pablo (uncredited)
The Visit .... Citizen of Gullen (uncredited)

1965
Il compagno Don Camillo .... The notary (uncredited)
Uno straniero a Sacramento .... Doctor (uncredited)

1966
7 monaci d'oro .... Undertaker (uncredited)
Come svaligiammo la Banca d'Italia .... Countryman (uncredited)
El Cisco .... Bank cashier (uncredited)
Io, io, io... e gli altri .... Priest (credited)
Operazione paura .... Coachman (uncredited)

1967
Cjamango .... Sancho's friend (uncredited)
Delitto a Posillipo - Londra chiama Napoli .... Nightclub customer (

credited?

)
Devilman Story .... Man whose hat and scarf are taken (uncredited)
La bisbetica domata .... Wedding guest (uncredited)
Nato per uccidere .... Farmer (uncredited)
Non aspettare Django, spara .... Man collecting corpses (uncredited)
Sicario 77 vivo o morto .... Pawnshop owner (uncredited)
Una colt, in pugno al diavolo ... Old Mexican (uncredited)

1968
Chiedi perdono a Dio, non a me .... Family friend with machine gun (uncredited)
Io ti amo (credited as "Turi Campochiaro") …. Chauffeur (uncredited)
Sangue chiama sangue (credited as "Turi Campochiaro") .... Priest (uncredited)
Vendetta per vendetta .... Old man discussing the state of affairs (uncredited)

1969
Franco e Ciccio sul sentiero di guerra .... Bearded old settler (credited as "Turi Campochiaro")
La taglia è tua... l'uomo l'ammazzo io .... Old man trying to protect the girl (uncredited)
Puro siccome un angelo papà mi fece monaco... di Monza .... Monk at the feast (uncredited)

1971
Io non vedo, tu non parli, lui non sente .... Servant (credited)
Le juge (All'ovest di Sacramento) .... Old man at the orphanage (credited as "Turi Campochiaro")
Per grazia ricevuta .... Priest (uncredited)
Quelle sporche anime dannate .... Peddler (credited)
Siamo tutti in libertà provvisoria .... Man in the court house (uncredited)

1972
La colt era il suo Dio .... Peddler (uncredited)
Sette orchidee macchiate di rosso .... Evangelist priest (uncredited)

1973
Allegri becchini... arriva Trinità (credited ? ) .... Doctor (uncredited)
Il sergente Rompiglioni .... Man with ears plugged on the train (uncredited)
Provaci anche tu, Lionel .... Nightclub customer (uncredited)
Rappresaglia .... Barber (uncredited)
Società a responsabilità molto limitata .... Priest (credited)

1974
Adolescence pervertie .... Professor (uncredited)
Paolo Barca, maestro elementare, praticamente nudista .... Photographer (uncredited)

1975
Salon Kitty .... Client at Salon Kitty (uncredited)
Una città in fondo alla strada (TV mini-series) .... Construction site watchman (credited)

1977
La sorprendente eredità del tontodimammà .... Man in car (credited)

1978
Primo amore (credited) .... The old Sicilian man (uncredited)

1979
L'anno dei gatti .... Bus passenger (uncredited)

1980
Sono fotogenico .... Grandfather Augusto (credited)

1981
Kenn' ich, weiß ich, war ich schon! .... Piano player in western saloon (uncredited)
Filmography to check
---
Michelino Cucchiarella (1964)
Scusi eminenza... posso sposarmi? (1974)