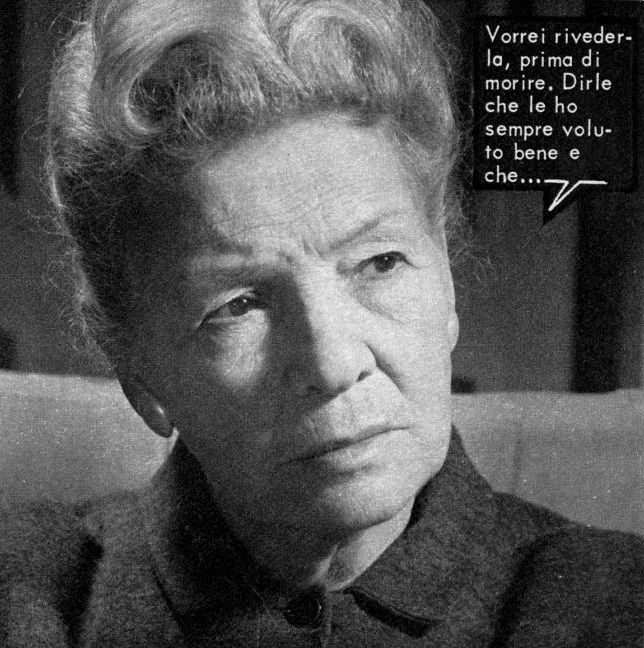 Margherita Lelli in a fotoromanzo from 1973
Margherita Lelli
Margherita Lelli is another generica, who in the 1960's was very active in the fotoromanzi Lancio.
Now that I begin to found movies roles for her too, I open her topic, sure that soon we will have plenty of new roles.
She seems never to have been credited in movies.
Filmography
1952
Le infedeli .... Theatre patron (uncredited)

1953
Siamo tutti inquilini .... Woman watching the appartment (uncredited)

1955
Piccola posta .... Woman at pet salon opening (uncredited)

1957
C'è un sentiero nel cielo .... Party guest (uncredited)

1958
Afrodite dea dell'amore .... Noblewoman (uncredited)
Amore e guai .... Train passenger (uncredited)

1959
Il mondo dei miracoli .... Spectactor (uncredited)

1960
Caccia al marito .... Hotel guest (uncredited)

Gli amori di Ercole

.... Spectator at the trial (uncredited)
Letto a tre piazze .... Party guest (uncredited)

1961
5 marines per 100 ragazze .... Audience member (uncredited)
Come September .... Woman at train station (uncredited)
Le avventure di Mary Read .... Woman at the ball (uncredited)

1962
I motorizzati .... Woman at the car lottery premiation (uncredited)

1963
Gli onorevoli .... Woman in audience at Braschi's speech (uncredited)
Maciste contro i Mongoli .... Enslaved woman (uncredited)
Mondo cane 2 .... Woman in hat parade (uncredited)
Omicron .... Gala guest who is stripped by Omicron's powers (uncredited)

1964
3 notti d'amore - segment "Fatebenefratelli" .... Wedding guest (uncredited)
I due mafiosi .... Nightclub client (uncredited)
La vendetta della signora .... Villager (uncredited)

1965
Letti sbagliati - segment "Il complicato" .... Man on train (uncredited)
Rita, la figlia americana .... Audience member at concert (uncredited)

1966
1000 dollari sul nero .... Pleading townswoman (uncredited)
James Tont operazione D.U.E. .... Woman attending the congress of secret agents (uncredited)
Ray Master l'inafferrabile .... Airplane passenger (uncredited)

1967
Come rubare la corona d'Inghilterra .... Guest at the embassy party (uncredited)
Il fischio al naso .... Slumber party guest (uncredited)
Il magnifico texano .... Woman at the fashion show (uncredited)
Il padre di famiglia .... Woman at the funeral (uncredited)
John il bastardo .... Dinner guest (uncredited)
Peggio per me... meglio per te .... Restaurant diner (uncredited)
Silenzio: si uccide .... Striptease spectator (uncredited)

1968
House of Cards .... Party guest (uncredited)
Il profeta .... Woman in restaurant (uncredited)
La pecora nera .... Party guest

1970
Le regine .... Party guest (uncredited)